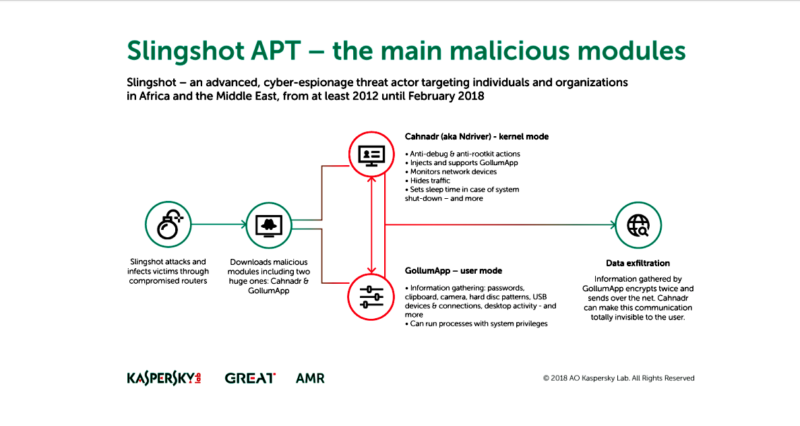 Enlarge (credit: Kaspersky Lab)
Researchers have discovered malware so stealthy it remained hidden for six years despite infecting at least 100 computers worldwide.
Slingshot—which gets its name from text found inside some of the recovered malware samples—is among the most advanced attack platforms ever discovered, which means it was likely developed on behalf of a well-resourced country, researchers with Moscow-based Kaspersky Lab reported Friday. The sophistication of the malware rivals that of Regin—the advanced backdoor that infected Belgian telecom Belgacom and other high-profile targets for years—and Project Sauron, a separate piece of malware suspected of being developed by a nation-state that also remained hidden for years.
Complex ecosystem
"The discovery of Slingshot reveals another complex ecosystem where multiple components work together in order to provide a very flexible and well-oiled cyber-espionage platform," Kaspersky Lab researchers wrote in a 25-page report published Friday. "The malware is highly advanced, solving all sorts of problems from a technical perspective and often in a very elegant way, combining older and newer components in a thoroughly thought-through, long-term operation, something to expect from a top-notch well-resourced actor."
Read 7 remaining paragraphs | Comments