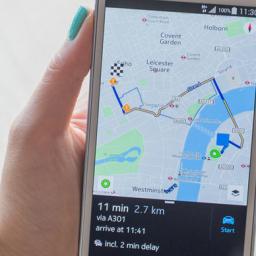 Nokia's up-and-coming
"Here" maps and navigation app
, available for free for anyone running Android 4.1 or above,
is no longer in "beta"
hitting version 1.1, and has added 3-D venue maps and improved routing. It now displays 3D maps for shopping centers and airports in 70 different countries and allows navigating through multiple floors with a sliding bar. Nokia also dialed back the interface in several different areas to preserve the screen real estate for the map content.
Despite being in "beta" for several months, and only becoming available on the Play Store in December, Nokia's Here maps and navigation has grown to be one of the best alternatives to Google Maps on Android. A big part of its popularity is due to including one-click region-wide downloadable offline maps, with turn-by-turn voice navigation, for free. Whether you are on a carrier with patchy coverage, use a cheaper cellular plan and depend on WiFi for data, or just want to be sure you'll get properly rerouted when you miss a turn in an area with little or no coverage, offline maps, points-of-interest and navigation can be a killer feature, which Google does not offer. When you do have data coverage, the Here app also offers reviews for restaurants and traffic information using Nokia's venerable own Navteq traffic information, similarly used by Google Maps and most other navigation services.