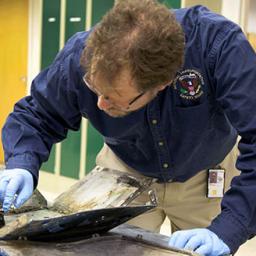 International aviation officials are trying to quickly come up with safer packaging for cargo shipments of lithium-ion batteries on passenger planes after U.S. testing confirmed that aircraft fire suppression systems put out the initial flames but
can't prevent thermal runaway from causing powerful explosions
and fires. Such an explosion could blow a hole in a plane and cause depressurization for passengers. If the working group cannot come up with such packaging, officials said they consider it likely that a formal proposal to ban bulk battery shipments from passenger planes will be offered in October. The global battery industry has been lobbying heavily against restrictions on battery shipments. A growing number of airlines have said they will no longer accept bulk battery shipments, including Delta, United, American Airlines, Cathay Pacific, Qantas, British Airways and Cargolux. All three US airlines will continue to accept shipments when the batteries are packed inside or with equipment such as laptops or power tools. The increasing focus on battery safety will put pressure on other airlines to follow suit.
Aviation officials believe lithium-ion batteries contributed to fires that
destroyed two Boeing 747 cargo planes
, killing all four crew members. Malaysia Airlines flight 370 was also reported to have been carrying 440lb of lithium-ion batteries in its cargo, adding yet another theory to the mystery surrounding its disappearance last year. Shipments are supposed to be limited to no more than a handful of batteries in a single box, under safety standards set by the UN's International Civil Aviation Organization. But a loophole permits many small boxes to be packed into one shipment. It's not unusual for as many as 80,000 batteries to be carried on board a plane.
On Jan. 7, 2013, ground workers discovered smoke and flames coming from an auxiliary power unit lithium-ion battery in a Japan Airlines 787 that was parked at the gate at Boston Logan International Airport after flying from Tokyo. NTSB investigators said Boeing's safety assessment of the 787's lithuim-ion battery was insufficient because
Boeing had ruled out cell-to-cell propagation of thermal runaway
(which is what occurred in this incident) but did not provide the corresponding analysis and justification in the safety assessment. As a result, the potential for cell-to-cell propagation of thermal runaway was not thoroughly scrutinized by Boeing and FAA engineers, ultimately allowing this safety hazard to go undetected by the certification process. As a result of the investigation, the NTSB made 15 safety recommendations to the FAA, two to Boeing, and one to GS Yuasa.