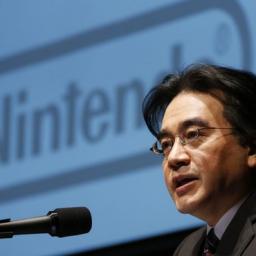 Satoru Iwata, president of Nintendo from 2002, died of a tumor Saturday at Kyoto University Hospital, after a lengthy illness. He was 55. He had not been seen recently at game events, such as E3 in Los Angeles, where he was usually a participant. The announcement drew a flood of emotional tributes from game fans and industry rivals.
Iwata led Nintendo's development into a global company
, with its hit Wii home console and DS handheld, and also through its recent troubles caused by the popularity of smartphones. Iwata had been poised to lead Nintendo through another stage after it recently did an about-face and said it will start making games for smartphones, meaning that Super Mario would soon start arriving on cellphones and tablets. The company returned to profit in the fiscal year ended March 2015 after several years of losses.
Iwata succeeded Hiroshi Yamauchi, who ruled over the Kyoto-based company for half a century, transforming it from a traditional playing-card company to a technological powerhouse. Iwata is survived by his wife Kayoko. A funeral service will be held on July 17. His replacement was not immediately announced, but the company said star game designer Shigeru Miyamaoto will remain in the leadership team along with Genyo Takeda.