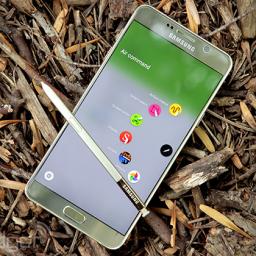 It's hard not to look at one of Samsung's flagship phablets without feeling a pang of nostalgia for Palm's products back in the day, stylus and graffiti handwriting recognition and all. Samsung bucked the trend as Steve Jobs defiantly maintained, "if your device has a stylus, you have failed." Instead, Samsung's Note line of devices use an integrated, touch-sensitive stylus to permit new applications and unlock new ways of interacting with software.
The Note is in its 5th incarnation in 2016.
Engadget has taken a look at it and finds it pretty compelling
overall, despite changes that will turn off many: no microSD support, no swappable battery, a wimpy single speaker, and only 32GB and 64GB options.
Let's cut to the chase: This is the most attractive, most comfortable-feeling Galaxy Note that Samsung has ever made. ... The generous curve of the backplate and the trimmed-down bezels surrounding the 5.7-inch, Quad HD, Super AMOLED screen make the Note 5 much easier to hold than any of the previous-gen Notes, ... More importantly, the screen is an absolute champ under the sweltering summer sun. With brightness cranked up all the way, I had no trouble ... If you've fiddled with a Galaxy S6, you know exactly what to expect here. The Note 5 comes with a TouchWiz-ified version of Android 5.1.1, and once again, I appreciate the lighter touch Samsung has been taking with its software. It's not my favorite skin and I still think it pales in comparison to the stock Google Now Launcher, but I'm pleasantly surprised by how much less obnoxious TouchWiz is these days. All of Samsung's mainstay features are here, and they all work as well as you'd expect them to.
Other reviews are similar. Check them out at
Gizmodo
and
Tech Times
.
Forbes
has discovered you can screw up your device by sticking the stylus in its receptacle the wrong way. So, don't do that then, dummy.