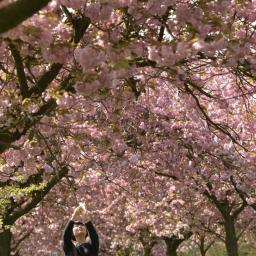 Widely reported this week is a phenomenon that has taken the scientific community by storm. In November 2008, 265 cherry stones (seeds) were sent to the ISS by Japan. They came back to Earth in July the following year. Some were sent for laboratory tests, but most were ferried back to their places of origin, and a selection was planted at nurseries near the Ganjoji temple.
By April this year, the "space cherry tree" had grown to around four metres (13 feet) tall, and suddenly produced nine flowers, each with just five petals, compared with about 30 on flowers of the parent tree. It normally takes about 10 years for a cherry tree of the similar variety to bear its first buds. Cross-pollination with another species could not be ruled out, but a lack of data is hampering an explanation for the early bloom.
Says a Miho Tomioka, a spokewoman for the project's organizer
:
The seeds were sent to the ISS as part of an educational and cultural project to let children gather the stones and learn how they grow into trees and live on, after returning from space. We had expected the (Ganjoji) tree to blossom about 10 years after planting, when the children come of age.
Read more at the
Japan Times
,
Engadget
, or
Discovery
.
[Ed. note: Discovery is also running an article on
how to have sex in space
. Tech journalism isn't what it used to be.]