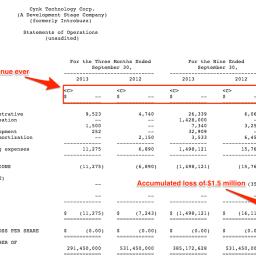 If the tech market experienced a bit of a downturn not long ago, it would now seem it's on the rebound, and investors are looking for the next dot-com miracle. The proof? Stocks like this one.
Check out the CYNK stock, linked to a company called Introbiz.
Registered in Belize, chartered in Nevada, one employee, totally opaque financial statements. Zero revenue, $1.5M in operating losses. No assets.
And yet,
the stock is up 25,000% from $0.10 to $14 per share in the last 16 days.
What does the site do? Looks like an ersatz social networking firm with a vague charter of connecting you to famous people. No idea how, who, or where. This is a bubble at its finest, and you know what they say about a fool and his money ...