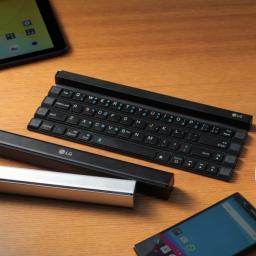 If you are frustrated with your smartphone's soft keyboard, you aren't alone. Despite their advocates, many gadget-users feel more productive on a physical keyboard, and that means there's a market for innovative or high quality ones.
Get ready for the IFA 2015 conference in Berlin, Germany, where LG Electronics (LG) will present a
new, portable, rollable wireless keyboard
. Unlike other portable keyboards on the market, LG's Rolly Keyboard (model KBB-700) folds up along the four rows to create an easy-to-carry "stick" that fits into your pocket, purse, or briefcase.
The typing on Rolly Keyboard is extremely comfortable because its 17mm key pitch is nearly as generous as the 18mm key pitch found on most desktop keyboards. It is made of impact-resistant and durable polycarbonate and ABS plastic. So the typing on the keyboard offers satisfying tactile feedback not found on flexible silicone keyboards. Two sturdy arms fold out to support smartphones as well as tablets in an upright position. It simply unfolds the Rolly Keyboard, enables the auto pairing function to connect easily to two different devices at the same time via Bluetooth 3.0 with the ability to toggle between the two with a simple key press. A single AAA battery powers the keyboard for up to three months of average use.
Engadget reports
, "The keyboard is just the start: the company says it plans to offer even more "input devices" in the next few months." Recently, LG has announced that from the end of August it will start rolling out
four new 4K Ultra HD OLED TVs
across its US, UK, German and Korean markets. The four new models add new features and form factors to the brand's existing OLED range.