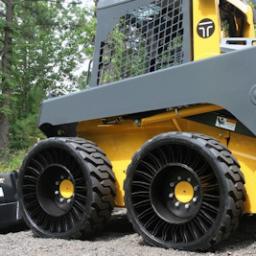 If you've never driven a Tweel, it might be time to try one (or four). It is basically an
airless tire held up with rubber spokes
. Michelin says the spokes provide a unique energy transfer that reduces bounce associated with pneumatic tires while offering two to three times the wear life. And because the tires have no air, you never have to adjust the air pressure or risk getting a flat. Tweels are best suited for low-speed vehicles that don't have suspensions and are prone to flats, such as lawnmowers and skid-steer loaders used on construction sites, but Michelin isn't ruling out their use on other vehicles in the future.
Different companies make
tires that don't use air
, including Bridgestone and Goodyear, and they go by different names: Non-pneumatic tires (NPT), airless tires, or run-flat tire are the most common. The first time I drove NPT tires was in 2014, I was floored by how the tires absorbed the bumps and seemingly rolled without noise or resistance. The product manager talked about how these "Terrain Armor" NPTs won't go flat (punctures) and won't get stuck in mud because the honeycomb design actually pushes mud out. Of course, they also have some drawbacks, such as noise and vibration at higher speeds.