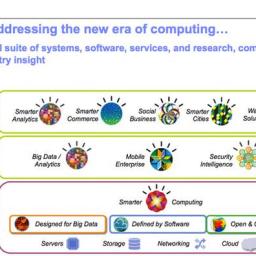 CEO Ginny Rometty is finishing off another round of divesting commodity product lines, along with associated headcount, as IBM tries to remain in the forefront of high-margin IT product and service businesses. At or near the top of Rometty's forward agenda is cloud computing, starting with the expansion of the
SoftLayer business
IBM bought last year.
Some investors
like the story.
But, as the folks at itjungle.com (a very underrated news site focusing on IBM and its competitors) point out,
cloud computing might not turn into the sort of high margin business
IBM is accustomed to, even with the enticement of
Big Data analytics
that IBM and others have been pushing.
Meanwhile, in contrast with generations past, many of the biggest consumers of IT are also among the biggest and innovative producers of platform technology: Google, Amazon, Facebook.