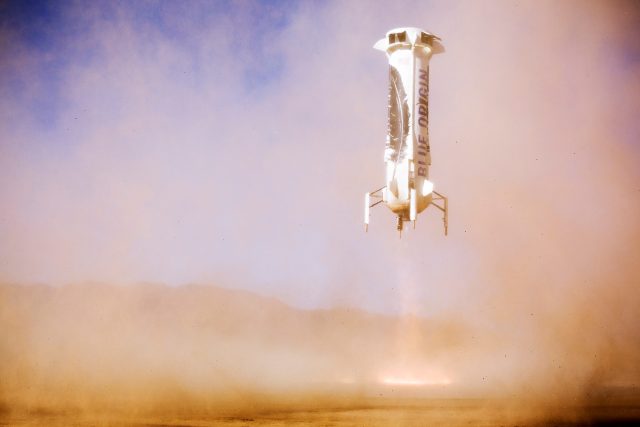 The New Shepard booster makes a controlled landing at 6.7 kph. (credit: Blue Origin)
Friday's launch of the New Shepard rocket in West Texas renewed the tired debate about whether Blue Origin or SpaceX has achieved more in the reusable spaceflight game. These discussions first flared up in November, when no less than Jeff Bezos and Elon Musk sparred on Twitter over the magnitude of New Shepard's first flight into space and subsequent vertical landing. Ultimately the debate is vacuous and completely misses the big picture.
Each company has achievements to be proud of. Blue Origin landed first and now has taken the next critical step toward full reusability by reflying a booster. SpaceX also landed vertically, about a month after Blue Origin. SpaceX's Falcon 9 rocket is a much larger and more powerful booster, flying a more dynamically challenging profile. Technically, its landing was more impressive. The company is also developing this capability while delivering payloads into orbit for NASA and the private sector.
There is no "better." Both companies are kicking ass. I think a lot of people who read this probably share a common goal with me: we'd like to see wider access to space. We'd like to see colonization of the Moon, or maybe Mars, or maybe beyond. We'd like to see a highway to the stars. There is only one way this happens: dramatically reducing the cost of getting into space. And the way to do this is by reusing your rockets and spacecraft.
Read 11 remaining paragraphs | Comments