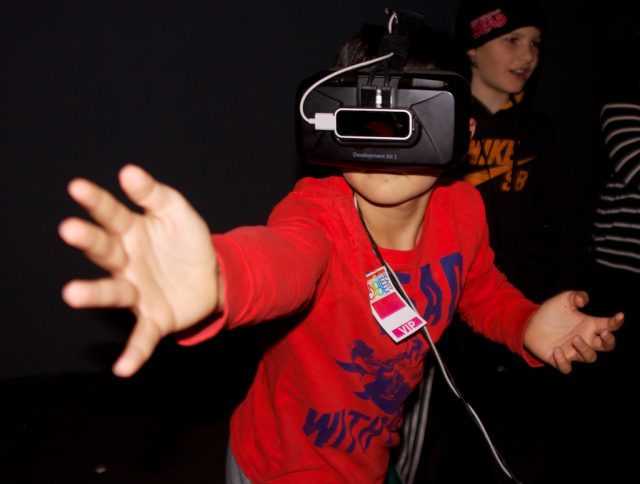 It's hard to make someone wearing VR goggles look cool, but this person pulls it off. (credit: Kyle Orland)
As new, high-end virtual reality headsets from the likes of Oculus, Valve/HTC, and Sony prepare to hit the market in the coming months, potential buyers may rightly wonder which VR solution is most likely to get a critical mass of support from the game development community. A new survey released ahead of March's Game Developers Conference suggests that, so far, the Oculus Rift is drawing outsized interest from those developers.
GDC's 2016 State of the Industry Report surveyed 2,000 professional developers who attended the popular annual trade show during the past three years, asking about their current work and interest in various virtual reality and augmented reality technologies (among other things). The Oculus Rift was by far the most popular VR headset among the surveyed developers, with 19 percent of respondents saying they were currently working on a game for the device. A number of Rift competitors were well behind in a statistical dead heat for second place among active VR developers: Samsung's GearVR at 8 percent of respondents, Google Cardboard at 7 percent, and HTC Vive and PlayStation VR at 6 percent each.
The Rift's lead extends to respondents' thoughts about the platform for their next VR game project; 20 percent say it will be on the Rift, compared to 9 percent for PlayStation VR and 8 percent for the HTC Vive.
Read 3 remaining paragraphs | Comments