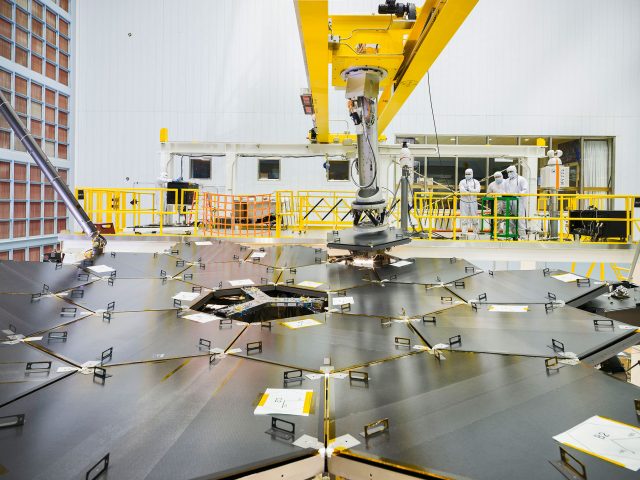 This week the James Webb Space Telescope team used a robotic am to install the last of the telescope's 18 mirrors onto the telescope structure. (credit: NASA)
After years of delays and cost overruns, the James Webb Space Telescope is finally coming together. This week the 18th and final primary mirror segment of the telescope was installed onto the support structure at Goddard Space Flight Center. From here, additional optics must be installed, and the telescope requires testing to ensure it can withstand the forces of a rocket launch anticipated in late 2018.
Each of the hexagon-shaped mirrors weighs 40 kg and spans 1.3 meters. After launch, the telescope will be flown to the second Lagrange point of the Earth-Sun system, about 1.5 million kilometers from Earth. From there, it will begin observations. When deployed in space, the telescope will have a 6.5-meter diameter.
"Completing the assembly of the primary mirror is a very significant milestone and the culmination of over a decade of design, manufacturing, testing, and now assembly of the primary mirror system," said Lee Feinberg, optical telescope element manager at Goddard. "There is a huge team across the country who contributed to this achievement."
Read 2 remaining paragraphs | Comments