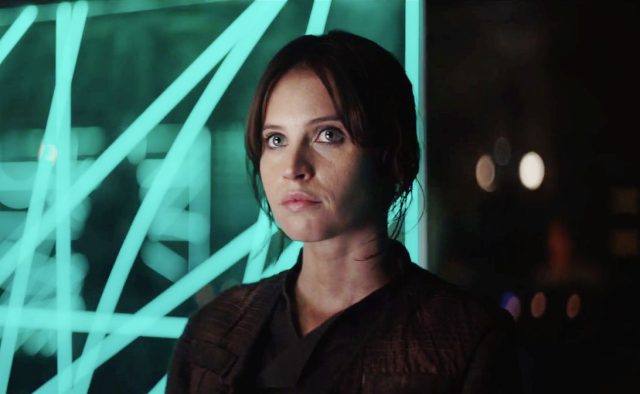 (credit: Disney)
Are you getting excited about December? We are—and not because of the presents. Disney just dropped the official trailer for Rogue One: A Star Wars Story, which hits theaters December 16th. The film is the studio's first foray outside the adventures of the characters we've grown up with, taking place shortly before the events depicted in Episode IV. The Empire is completing work on the Death Star, and the Rebellion needs to find its weakness; it recruits Jyn Erso (played by Felicity Jones) to do so.
This isn't our first look at Rogue One. Disney released a trailer early in April replete with visuals of AT-ATs storming tropical beaches set to a melancholy piano riff of John Williams' "Force theme" punctuated by a wailing siren riff guaranteed to light up anyone's secondary somatosensory cortex. But this new trailer takes a slightly different tone, perhaps the result of studio displeasure which led to several weeks of reshoots earlier this summer.
It does give us a better look at several characters, though. There's Chirrut Imwe (played by Donnie Yen), a blind warrior living on Jedha—a planet that's the source of those little crystals that make lightsabers work. And Cassian Andor (Diego Luna), a captain in the Rebellion working with Erso to steal the plans to the Death Star, accompanied by a laconic droid, K2SO (Alan Tudyk). Oh, and we also get another peek at Saw Gerrera (Forest Whitaker) looking a lot like a pirate in power armor.
Read 1 remaining paragraphs | Comments