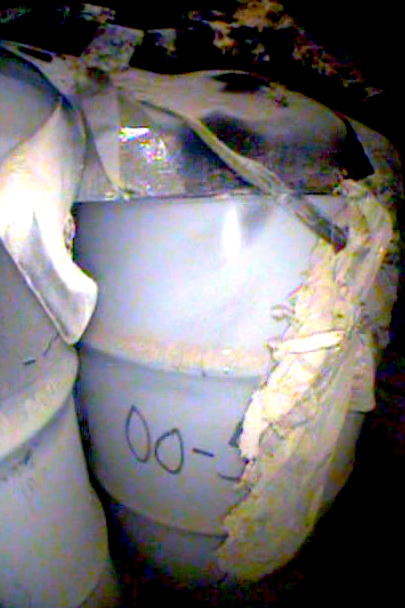 According to the Department of Energy, this is an exploded waste drum in the dump. "Damage can be seen to the slip sheet on top of the waste container and there are remnants of a magnesium oxide bag also visible." (credit: Department of Energy )
The Los Angeles Times is estimating that an explosion that occurred at a New Mexico nuclear waste dumping facility in 2014 could cost upwards of $2 billion to clean up.
Construction began on the Waste Isolation Pilot Plant (WIPP) in New Mexico's Carlsbad desert in the 1980s (PDF). The site was built to handle transuranic waste from the US' nuclear weapons program. The WIPP had been eyed to receive nuclear waste from commercial power-generating plants as well.
According to the LA Times, the 2014 explosion at the WIPP was downplayed by the federal government, with the Department of Energy (DoE) putting out statements indicating that cleanup was progressing quickly. Indeed, a 2015 Recovery Plan insisted that "limited waste disposal operations" would resume in the first quarter of 2016. Instead, two years have passed since the incident without any indication that smaller nuclear waste cleanup programs around the US will be able to deliver their waste to the New Mexico facility any time soon.
Read 9 remaining paragraphs | Comments