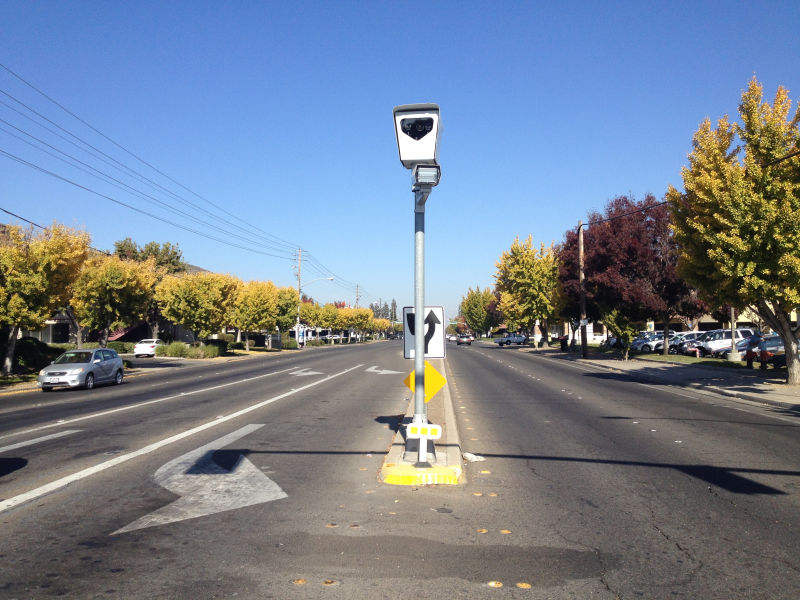 Enlarge / A Redflex red light camera at the intersection of Sylvan and Coffee in Modesto, California as seen in 2013. (credit: Cyrus Farivar)
A former Chicago transportation official has been sentenced to a decade in prison. He was found guilty in January on 20 counts of mail and wire fraud, bribery, extortion, and many other charges stemming from a corrupt contract involving Redflex, a major red light camera company. During the Monday hearing, US District Judge Virginia M. Kendall also ordered John Bills to pay over $2 million in restitution.
According to the Chicago Tribune, "Bills' voice broke with emotion as he acknowledged 'ethical and moral' mistakes, but he denied masterminding the massive bribery scheme in exchange for growing the city's controversial network of red light cameras into the largest in the nation."
As Ars has reported previously, Bills, who was the managing deputy commissioner at the Department of Transportation, helped steer a lucrative city contract to Redflex. After Bills urged his colleagues to approve the deal, the city hired the embattled Australian firm to provide automated enforcement cameras, known formally as its Digital Automated Red Light Enforcement Program (DARLEP), from October 2003 until February 2013.
Read 4 remaining paragraphs | Comments