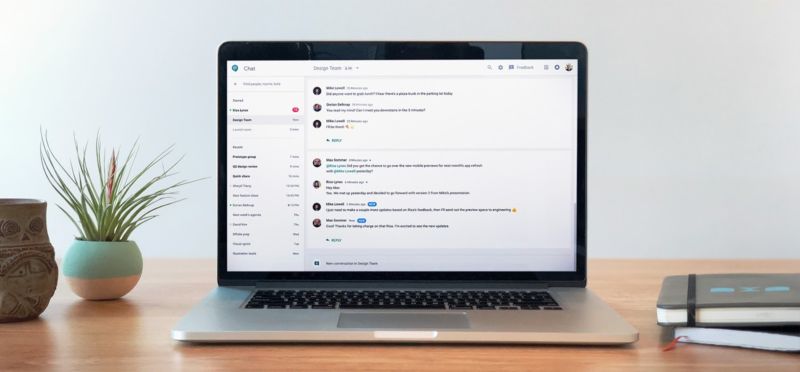 Enlarge / Google Hangouts Chat running on a laptop. (credit: Google)
Slack, Stride, HipChat—workplace chat apps that integrate with various project management and collaboration services are all the rage. It's surprising, then, that Google hasn't jumped on board yet. Workers are using Google Hangouts in offices all over the world, but the company doesn't offer the kinds of features that Slack does. Now, Google has launched Hangouts Chat, its Slack competitor—sorry, "messaging platform built for teams." It's part of the G Suite at every pricing tier, though the features vary by plan.
Announced last year, Hangouts Chat looks and behaves just like regular Hangouts, but it has several enterprise features. It integrates more deeply with various other productivity products in the G Suite-like Google Drive, but it also offers some features and integrations for popular third-party services like Salesforce and Trello, just like Slack does. Google says you can "schedule meetings, create tasks, or get updates from your team right within Chat."
Google also promises that the service works without any plugins, and that includes the expanded Hangouts feature, Hangouts Meet, which went live a while ago. Hangouts Meet has a leg up over regular Hangouts in the form of tighter integration with Google Calendar and automatic inclusion of old-fashioned conference line call-in numbers. Below are images from the initial announcement of the service.
Read 6 remaining paragraphs | Comments