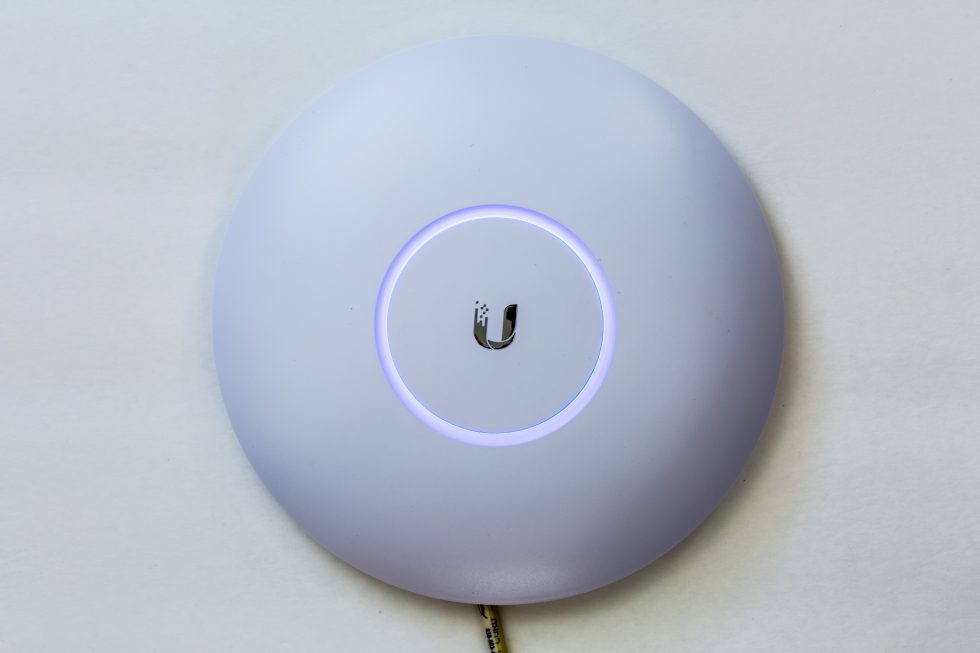 Enlarge / The UAP-AC-Pro, one of the three types of UniFi wireless access points I tested. (credit: Lee Hutchinson)
Back in July, Ars ran a syndicated piece from The Wirecutter on the best consumer-grade wireless access point, with the winner being the $100 Netgear EX6200. The result didn't particularly move me—I'd been using an 802.11ac-capable Apple Airport Extreme since late 2013 and Wi-Fi in House Hutchinson seemed pretty much a solved problem. The Apple access point had been more expensive than just about any other consumer wireless gear when I'd picked it up, but it was solidly reliable, quite quick, and covered all 2,600 square feet (about 241 square meters) of the house without any noticeable dead spots.
But a few of the comments in the syndicated piece echoed a general dissatisfaction with the consumer wireless access point landscape and recommended we check out some entry-level "enterprise" wireless gear instead. This tickled my urge to tinker—if there's one thing the latent sysadmin in me loves, it's tearing out a perfectly functional existing production system and implementing something new from scratch!
So shortly after that piece ran, I reached out to Ubiquiti Networks, an enterprise networking gear manufacturer that makes, among other things, the types of mesh-capable Wi-Fi systems that often get installed in hotels and airports. I wanted to see what it was like to leave the kiddie pool of home Wi-Fi equipment and jump into the big pool—the shallow end, at least (the deep end would probably be bolting Cisco Aironet access points all over my house). My contact with Ubiquiti happened at a fortuitous time, too, since the company was in the process of redesigning its UniFi wireless access products.
Read 66 remaining paragraphs | Comments