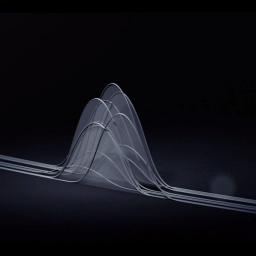 Animation meets science in new and extraordinary ways.
Start with this artwork depicting the movement of Olympic athletes as they engage in their sports
. A German artist has recreated the movement of Olympic artists in a series of surreal animations designed to show exactly how they move. Athletes including Michael Phelps, Usain Bolt and gymnast Nadia Comăneci were transformed into a series of flowing animations. The performances were captured in 3D then recreated electronically, substituting abstract lines and curves for the athlete's body.
Then check out this spectacular NASA creation:
a fast, six second clip of six months' worth of weather
, showing advance and retreat of massive cloud formations over the North Pole, and the frenetic movement of air masses over time. Imagine trying to model something as complex as that!
Finally,
a historical clip in which Jim Henson (the famous Muppets puppeteer) animates some classic jazz
. A paper-cut animation Henson created by hand, the work was just rediscovered and released: proof that science, art, and creativity blend in intriguing and often useful ways.