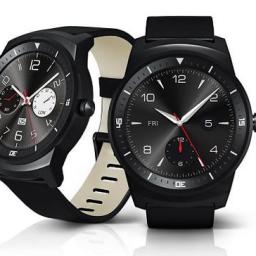 We're getting there, slowly. There's a new range of smartwatch in town, and they're getting better and more attractive. In the words of the Motley Fool financial blog,
Samsung and LG have upped the ante on smartwatches
.
Here's Samsung's new Gear S
:
Their latest watch is the Samsung Gear S, and it's one of the only smartwatches on the market that sports 3G connectivity. This allows it to function on its own without having to be forever tethered to a smartphone to access notifications and other content.

The other unique feature of the Gear S is its 2" curved OLED display with a resolution of 320x480. Samsung believes that a convex display allows for a more ergonomic and comfortable smartwatch. With its curved rectangular display the form factor of the Gear S is like a cross between fitness bands and smartwatches.
LG has released a new one too, and it's round and surprisingly traditional looking
.
The G Watch R's circular touchscreen measures 1.3 inches versus the G Watch's rectangular 1.65-inch screen. The G Watch R's display has a higher resolution (320 × 320 pixels) compared with the G Watch's (280 × 280 pixels). That means images viewed on the G Watch R should look much sharper than those viewed on the standard G Watch. The G Watch R also uses plastic OLED display technology rather than the LCD technology used with the G Watch. As a result, LG says, the G Watch R will be easier to read in direct sunlight.
With so many models and so many new features, and yet so many missing features, the tech press is already jaded. Check out TechRadar,
who asks, "Does anybody even care anymore?"
while simultaneously admitting, err,
they
do.
[Ed. note: I'm definitely in the market, and they're getting closer to making me reach for my wallet!]