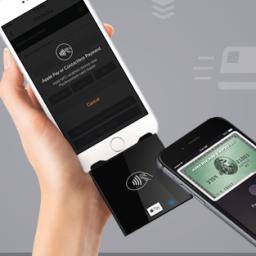 Apple now works with
PayAnywhere, a mobile credit card reader, accept Apple Pay payments
for businesses and individuals.
This new PayAnywhere Mobile reader accepts Apple Pay, other contactless NFC payments, traditional magnetic stripe credit cards and is EMV-capable. It is also offering merchants $5000 free in Apple Pay transaction processing with a new PayAnywhere account, an unprecedented offer in the industry.
Security and privacy is at the core of Apple Pay. When you add a credit or debit card to Apple Pay, the actual card numbers are not stored on the device, nor on Apple servers. Instead, a unique Device Account Number is assigned, encrypted and securely stored in the Secure Element on your device. Each transaction is authorized with a one-time unique dynamic security code.
They are the
first solution provider in the United States
to distribute an Apple Pay/iPhone/iPad acceptance device.
The cost of this device will be $39.95, and the PayAnywhere Mobile app is free in the App Store. It will be available in the month of September.
Read more details from
here