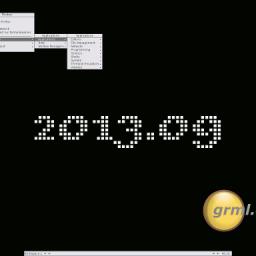 Grml Linux is a bit of a unique distro whose vision and focus have shifted over the past ten years
. It represents the personalities of its developers, who prefer the zshell, focus on sysadmin tasks (deployment, disk cloning, backup, forensics, and rescuing borked systems). Lastly, one of the developers is visually handicapped. Thus: grml focuses on scripting, tools managed from the command prompt, and has chosen zsh as the basis for its innovations.
Its Distrowatch page is here
.
These days grml is a live CD or USB-stick based on Debian. You're not supposed to install it. It requires little more than 256MB of memory, and though it's intended to be mostly a command line environment, they've packaged Fluxbox and you can get there via startx. That's useful if you want to launch a browser to read up on a issue, but most of your day you'll be sitting at the command prompt in a zsh. Have a look at their
zsh introduction page
or their
reference card
then to get a sense of the shortcuts, command aliases, and scripts that help you administer your systems, or the
dpkg package list showing installed packages
.
I find the package list to be limited, and to my knowledge, there are no tools available that you can't find on other distros. But I find grml's advantage to be that they love and have put a lot of energy into the zshell, and if you're interested in the zsh this is a good place to see it showcased. It's also an easy distro to carry around on a USB stick if you're a command prompt warrior and want to quickly boot up to a useable command prompt from where you can do other things. For example, you simply run the
grml-network
script from the command prompt to discover, configure, and connect to a wireless network. And of course it's based on Debian's excellent hardware recognition and configuration system. This is a niche distro that won't appeal to everybody, but odds are better than average you'll soon find yourself at the
ZSH Reference page
looking into additional resources for using the amazing zshell (For starters, try the
429 and dense page ZSH Manual
and this
14 page zshell reference card
from the guys at bash2zsh. Have fun.