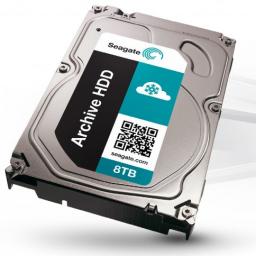 Seagate is pushing the boundaries on magnetic spinning media with a
new suite of 10TB hard drives
- and is relaunching the familiar Barracuda brand name for the new product line. In 2013 the company unofficially retired the name, choosing instead to refer to its desktop drives as "Desktop HDD." Seagate is similarly rebranding its solid state-hybrid hard drives (SSHD) as FireCuda. These new launches come as the company is prepping for significant rounds of layoffs. Seagate has previously announced plans to fire roughly 8,100 people over the next 12 months, or 14% of its current global workforce. The company also plans to build 20 million fewer hard drives per quarter, down 33%.
These new 10TB drives don't appear to
use helium like other high-capacity drives
, and they aren't based on
Shingled Magnetic Recording
, either. These drives use more-conventional perpendicular recording, which means they won't take a performance hit when writing data, though still certainly no match for the solid-state competition. These also aren't the largest capacity hard drives available, either. If you've got the money to spend,
Samsung sells a 14TB SSD for upwards of $5,000
.